WELCOME TO ASL

Greetings, Charles Fox here. Thanks for your interest in the American School of Lutherie. For over 40 years it's been my pleasure to teach the craft of guitar making and offer my best counsel to folks seeking to enter the field. With so many schools to choose among today, I've included a page of advice on SELECTING A SCHOOL, which I hope you'll find useful.
SIGN UP FOR OUR QUARTERLY NEWSLETTER AT THE BOTTOM OF THIS PAGE
ASL is the original and longest established school for luthiers in North America. Since 1973 many hundreds of beginning and experienced craftspeople have passed through our doors, learning valuable skills and gaining powerful insights into this challenging work. We've introduced the craft to many of today's established luthiers and guided experienced builders to new levels of mastery. Along the way we've developed the basic learning model and teaching formats used by guitar making classes everywhere.
ASL, in Portland, Oregon, specializes in intensive, short-term classes for busy working adults - beginners and experienced guitar makers for whom one and two week-long hands-on building classes, workshops and seminars offer a choice of learning experiences designed to provide a strong foundation for continuing work on your own. Classes are small, the environment is friendly and stimulating. We have a good time sharing information, and you'll likely make a friend or two to stay in touch with and compare notes with as you move forward on your own.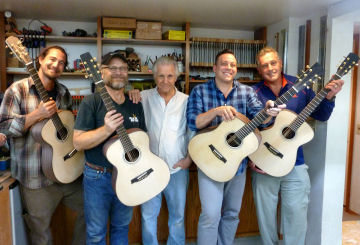 CLASS FULL? All currently scheduled class dates are posted on this page. To keep our lives flexible for guitar production, travel, etc, we post class dates 3-6 months prior to each class. To be notified of future course dates, and receive lutherie and tooling tips, subscribe to our newsletter at the bottom of this page.
You'll find class details in the CLASSES section or on each class's individual page, and answers to your most frequently asked questions on the FAQ page. Please email any questions or comments, or feel free to call us. We'll be happy to chat with you in person.